Opinion: Biden is on the verge of a huge political victory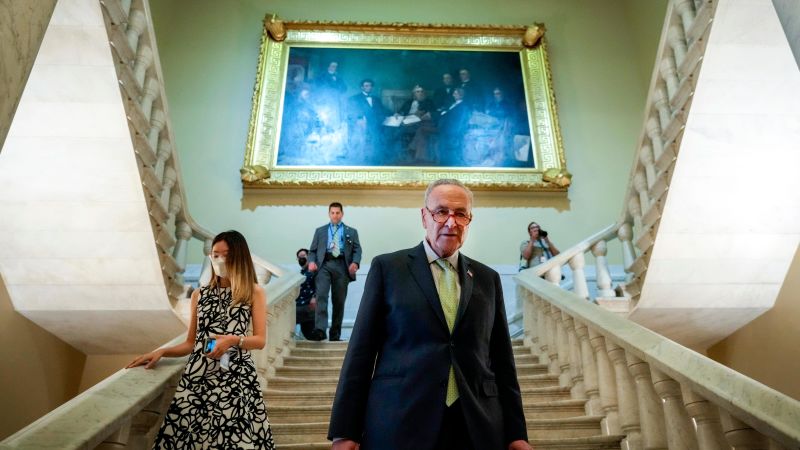 Editor's Note: Julian Zelizer, a CNN political analyst, is a professor of history and public affairs at Princeton University. He is the author and editor of 24 books, including, "The Presidency of Donald J. Trump: A First Historical Assessment." Follow him on Twitter @julianzelizer. The views expressed in this commentary are his own. View more opinion on CNN.


CNN
 — 

With the passage of the CHIPS Act to boost US production of semiconductors and the announcement of a deal among Senate Democrats on a bill addressing climate change, health care and taxes, President Joe Biden is on the verge of a huge political victory.
These bills offer the much-desired combination of major policy changes that also bring political benefit to the White House.
Securing support for them was a long and difficult road. The dragged-out deliberations took place as the President's political standing fell precipitously, including with Democrats who argued that he had been too timid in confronting Sen. Joe Manchin of West Virginia over signature measures to deal with climate change and health care.
While the Inflation Reduction Act that emerged from negotiations between Manchin and Senate Majority Leader Chuck Schumer is far from what was originally envisioned in Biden's Build Back Better bill, it would still have a powerful impact. Enabling Medicare to negotiate drug prices with the pharmaceutical industry would save consumers a significant amount of money. Spending $369 billion to fight climate change by investing in clean energy and reducing greenhouse emissions is a huge step forward. "It really makes me incredibly optimistic. It doesn't get us all the way there on its own, but it keeps us in the climate fight," noted Jesse Jenkins, a climate expert at Princeton.
The beefing up of the Internal Revenue Service would increase tax payments by the wealthiest Americans, in a departure from the supply-side ethos of the GOP.
At the same time, the semiconductor bill would provide more than $50 billion in federal funding to address a semiconductor chip shortage and make the US less reliant on countries such as China for its manufacturing. The legislation, a rare moment of bipartisanship, will reinvigorate federal investment in key industrial research. "The private sector," notes The Washington Post editorial board, "perennially underinvests in basic research – which is why this area, more than chip-builders with plenty of cash in their pockets, needs the help the most."
There are still many obstacles ahead before the Inflation Reduction Act is passed. Sen. Kyrsten Sinema of Arizona is continuing to play her cards close to the chest. Democrats will need her vote for the bill to pass. The Senate Parliamentarian will have to also accept each part of the bill as part of reconciliation, while some House Democrats, like New Jersey's Rep. Josh Gottheimer who want to end the Trump-era limits on deducting state and local taxes, could still cause trouble in the House by making it harder for the Schumer-Manchin bill to secure a majority.
But if the bill goes through, Biden will be able to boast that he has delivered on one of the most basic promises of his 2020 campaign – that he has the ability and willingness to govern. Besides the fact that Biden seemed to Democrats like the antithesis of former President Donald Trump, voters were also supporting an old-fashioned senator who came to the Oval Office with decades of legislative experience and who believed in the art of governing.
After four years of chaos under Trump, as well as ongoing gridlock and dysfunction on Capitol Hill that left issue after issue unaddressed, there was clearly a yearning in the electorate for a sense of normality – a return to the era when many career politicians devoted every day to diving into the legislative process to find incremental solutions to the big problems that we faced. Biden brought to the White House the kind of deep political experience that we have not seen since the mid-1970s – except for President George H.W. Bush.
Biden is not disillusioned by the slow and unwieldy legislative process. He believes that governing is possible, and he has the kind of patience needed in a system that rarely produces immediate results. Come the midterms and the 2024 election, this would be the kind of leadership that Democrats could sell on the campaign trail, particularly as a contrast to the more radicalized GOP.
To be sure, bad economic conditions would likely overwhelm the ability of Democrats to take advantage of these accomplishments. If Americans are feeling pinched and can't afford basic goods, they probably won't reward the party in power for addressing climate change. It is also difficult to gauge how effective the inevitable Republican attacks will be on the deal that Manchin has agreed to.
Nonetheless, if Biden and the Democrats can secure and leverage these two victories, combined with the American Rescue Plan and the infrastructure package, the President will have greatly advanced the case that he has helped stabilize conditions in Washington and shown how governing is still something that leaders can do.
Concrete benefits such as lower prescription drug prices will matter very much to voters. In an age when so many major crises beg for government as part of the solution, this might well be Biden's best opportunity to build back a better reelection coalition for 2024.